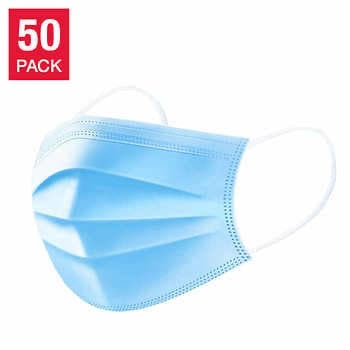 Disposable 3-ply Face Mask (50 Masks Set)
Save

50

%
Save

50

%
Original price
$19.99
-
Original price
$19.99
Keep Healthy & Stay Safe
Safety and health should take priority in your life and the lives of your friends and family. Especially during the global pandemic, as well as flu season or issues with the common cold, face masks can be vital to the safety of yourself and those around you. Available in singles or a pack of 50, these Disposable 3-Ply Face Masks keep your face and mouth guard to prevent any open coughing or sneezing. This in turn protects you and any nearby from exposure to germs, viruses, or infectious bacteria.
The Benefits of Wearing Face Masks
Due to the ongoing crisis affecting the world, the Canadian and US governments are asking people to wear face masks or face coverings when not able to practice proper social distancing. Doing so can lessen the risk of spreading germs or potentially deadline viruses such as COVID-19.
According to studies by the World Health Organization, keeping a distance of at least 3 feet (1 m) can lower the chance of spreading the coronavirus by over 80%, while keeping 6 feet (2m) apart can be even more effective. Wearing a face mask works in tandem with social distancing to recuse the spreading risk even further, especially in cases where keeping distance is not possible.
When wearing face masks, WHO found that the infection risk and transmission of viruses was only 3%, as opposed to 17% for someone not wearing a mask. This reduction of 80% is reason enough to want to wear a mask in public, both outdoors and indoors, to help insure optimal health for you and your family members.
Disposable & Dependable
These Disposable Face Masks are made of sturdy 3-ply material, which is a recommended design for face masks and face coverings to properly combat the spread of coronavirus, flu, and gold germs. You can get the face masks in your choice of blue or pink, to match scrubs colors or to give out to males and females depending on the color. We also offer the masks in a one-piece selection or a pack of 50 disposable face masks.
Keep the 3-ply face masks handy at home, in the car, or while traveling to ensure you have a face covering nearby when needed. The comfortable fit and high bacterial filtration bring peace of mind and confidence that you are properly protected. Plus, they're completely disposable, so no need to worry about washing the masks and waiting for them to dry to wear again. Just dispose of the used mask properly and pick another from the pack!
Please note: This face mask product will protect against the spread of germs and droplets, but it does not entirely eliminate the risk of contracting disease or infection. Color may also not be as depicted.
-Triple Layer
-Anti Fog
-Anti Dust
-3ply