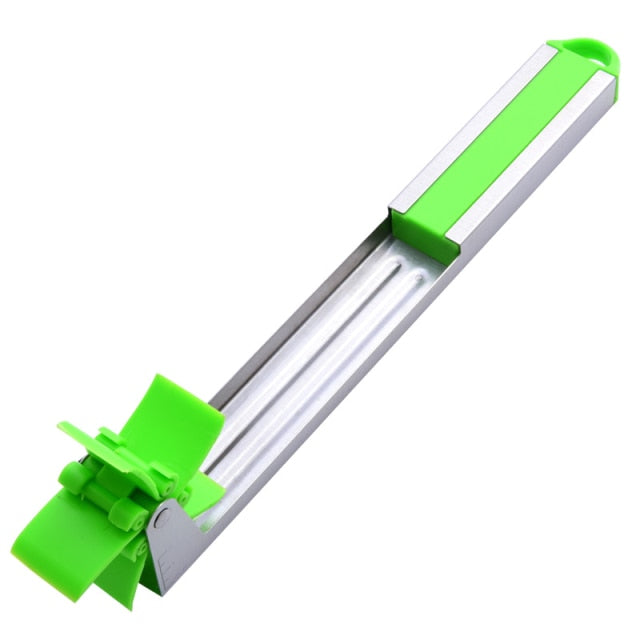 Watermelon Windmill Cutter Slicer, Stainless Steel Shape Fruit Tools Quickly Cut Tool Kitchen Gadgets
Sold out
Original price
$19.99
-
Original price
$19.99
About this item
【Efficient Watermelon Cutting】This watermelon windmill cutter slicer comes with an automatic cutter, just gently push, the swirling whirlwind blade will quickly cut the watermelon slices into squares, making you and your family and friends enjoy the sweet watermelon pieces.

【Safe & Durable】Made from 304 stainless steel and eco-friendly ABS material, this watermelon slicer is BPA Free, certified, rust-proof, drop-resistant, wear-resistant, durable, and safer to use. The unique rounded edge and non-sharp blade design protect your hands well.

【Easy to Use】The watermelon slicer is easy to use without additional tools and does not dirt your hands. You can quickly and easily cut into watermelon fruits with a simple step. The unique design allows you to cut the perfect cube-shaped watermelon slice every time.

【Comfortable & Adjustable】Comes with ergonomic handle design, the watermelon cutter is comfortable, non-slip, easy to grip for cutting watermelon quickly. A scale is engraved on the outside of the stainless steel groove to facilitate thickness measurement and meet your different needs. You cut out 0-2CM watermelon pieces according to your preference.

【Lightweight & Portable】The lightweight and compact design make it easy to use, carry and store, which is very suitable for home or outdoor camping. The watermelon windmill cutter is easy to clean, just rinse with water to keep it clean after use. We will give you a stainless steel spoon as a gift for yours.
Product description

A watermelon is loved by everyone in summer and it is the best product to cool down. At this time, a watermelon slicer, which can quickly and easily cut watermelons, came into being.
Enjoying a delicate plate of watermelon is one of the coolest things in summer. You can enjoy delicious fruits and beautiful summer days, and our amazing whirlwind watermelon slicer will do all the rest for you.
This is a fruit-cutting tool that allows you to cut watermelons quickly and easily to get the perfect watermelon block. It is made of high-quality stainless steel and ABS material that is very safe, healthy and hygienic. The watermelon cutter comes with a unique automatic cyclone cutting technology to allow you to cut watermelons easily.
Come on, get the GSO watermelon windmill cutter for yourself or your family for a more convenient and fast life, experiencing the fun time of a family party or outdoor picnic. You will be satisfied with this watermelon slicer set.


Specifications
Item: Watermelon slicer cutter
Colour: As the picture shows
Material: Stainless steel and ABS
Size: 11.81 x 2.74 x 1.46 inches
Weight: 5.6 ounces
Style: Healthy and safe
Certification: approved

Package including:
1 x Watermelon slicer

How to use?

1. Confirm the size of the watermelon pieces to be cut (0-2 cm).
2. Push our watermelon slicer tool into the watermelon, the windmill slicer blade will automatically cut the watermelon into cubes.
3. Extract slicer, the get some perfect watermelon pieces.

Tips:

There might be a little colour difference due to the monitor, camera or other factors.
Due to manual measurement, please allow 1-2cm error.
Keep away from children to prevent injury.